Safety is defined as the "state in which risks associated with aviation activities, related to, or in direct support of the operation of aircraft, are reduced and controlled to an acceptable level".
KCAA has established a State Safety Programme (SSP) office to develop, implement, maintain and constantly improve strategies and processes to ensure that all aviation activities will achieve the highest level of safety performance, while meeting both national and international standards.
What is a State Safety Programme (SSP)?
The State Safety Programme provides a structured mechanism for meeting Kenya's responsibilities for safety management using a systematic, risk- and performance-based approach. It provides an approach to system safety that stresses performance of safety critical processes in service provider activities and in the regulator's oversight functions. As such, it supplies a framework for safety decision making.
An important aspect of the SSP is in defining the relationship between KCAA and service providers through their safety management systems (SMS). This relationship is managed through the oversight system to ensure implementation of SMS in accordance with the Civil Aviation (Safety Management) regulations.
SSP Components
State Safety Policy, Objectives & Resources: Defines how a State will manage and support safety throughout its aviation system
State Safety Risk Management: Augments reactive methods of analyzing the causes of an incident/accident with proactive processes to identify safety hazards and mitigate potential safety risks
State Safety Assurance: Aims to assure the State that their functions are achieving their intended safety objectives and targets
State Safety Promotion: Internal and external communication of safety information to support the development of a positive safety culture
Benefits of a SSP
Data-driven & Risk- based approach to safety regulation
Performance- based regulatory framework
Greater industry resilience to evolving aviation landscape
Greater industry involvement in safety management
An integrated approach towards effective safety management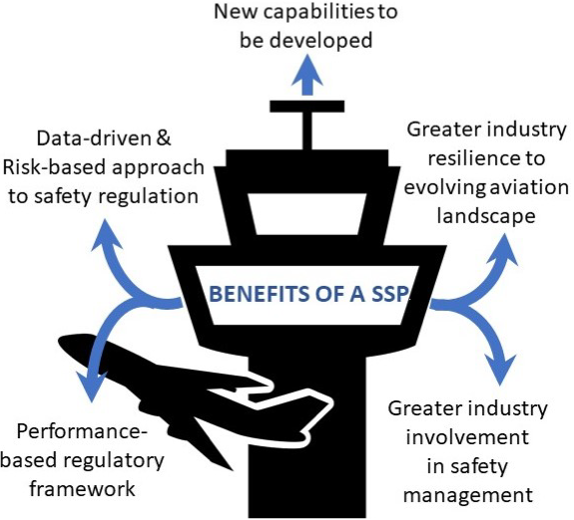 SSP & Global Initiatives
The global framework for enhancing safety management is achieved through ICAO's Global Aviation Safety Plan (GASP). The GASP sets out a continuous safety prioritization and improvement strategy for States and regions, and guides the harmonized development of regional and national safety planning.
A core part of the GASP' s strategy is that States implement SSPs, effective safety oversight systems, and safety capabilities necessary to support future aviation systems.